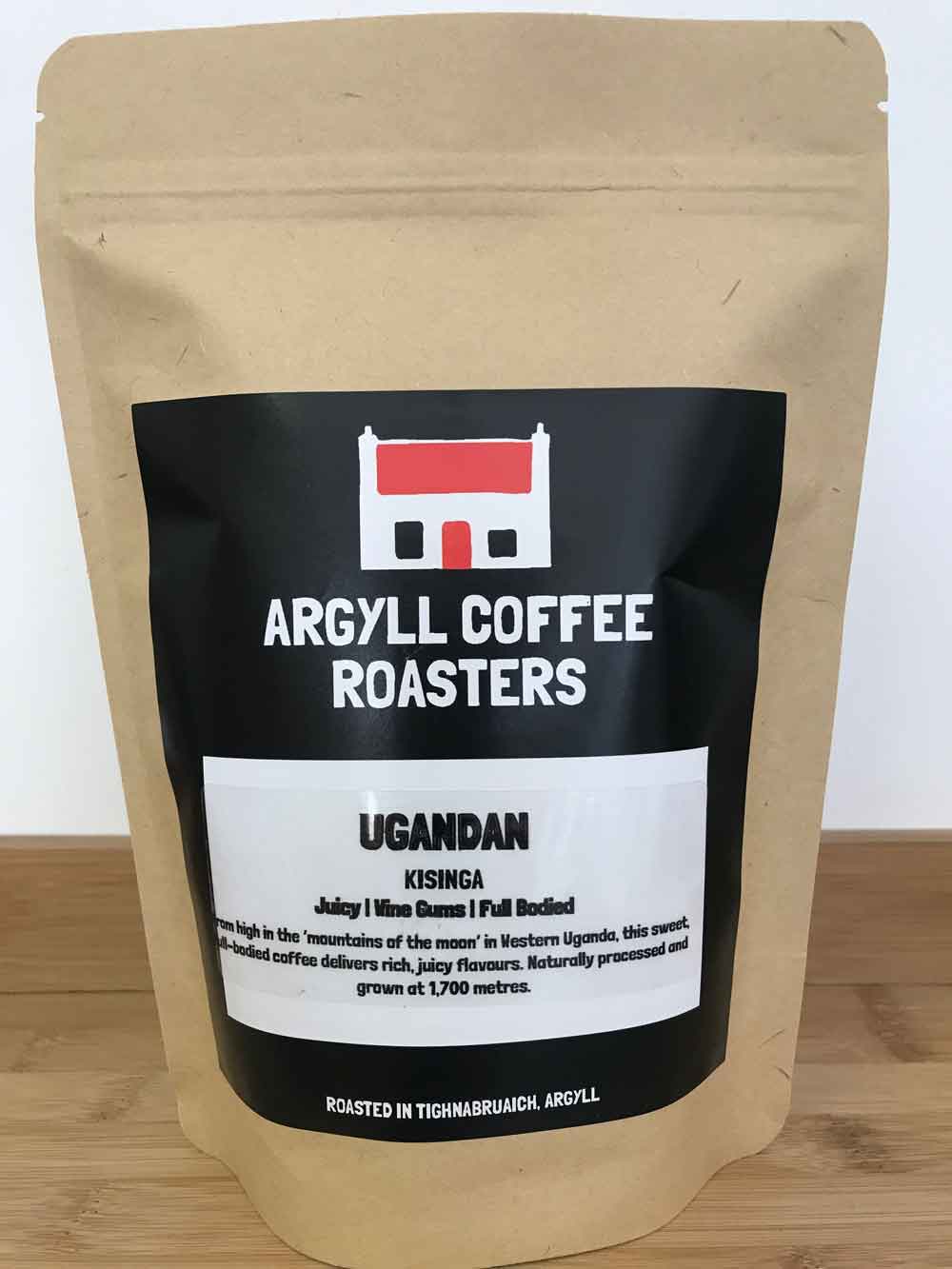 Ugandan Kisinga
From high in the 'mountains of the moon' in Western Uganda, this sweet, full-bodied coffee delvers a unique taste.
Varietal: SL28, SL 34, & some SL14 & Nyasaland
Processing: Natural & dried on raised beds
Altitude: 1,700 to 2,200 above sea level
Owners: 2,000 farmers - members of Rwenzori Arabica Scheme Kyagalanyi Coffee Ltd
It's always exciting to get new coffee from emerging countries in the speciality coffee market. And this one, from Kisinga high in the Rwenzori Mountains in Western Uganda, is a cracker. We absolutely love it! It's a full-bodied coffee that packs a punch with juicy, sweet flavours. Think wine gums, grapes and maybe even a hint of Turkish delight. Processed naturally, this coffee delivers a smooth, sweet cup with great body.
Origin
The Rwenzoris are known as the 'Mountains of the Moon'. They stretch for 120 kilometres along the border with the Democratic Republic of Congo. The snow capped peaks reach over 5,000 metres above sea level. The high altitude, fertile soils and plentiful rainfall provide perfect growing conditions for high quality Arabica coffee. The area is home to the Bakonzo tribe, who have farmed the foothills of the Rwenzori for generations. The coffee is grown under the shade of banana trees, while the mixed farms also produce cassava, maize, beans and groundnuts for local consumption and additional income. Kyagalanyi Coffee Ltd. has been working to equip these smallholder farmers with tools to increase their yields and produce high quality coffee for the speciality market.
Bukonzo county is divided into lots of sub-counties including Kisinga. The area has many small towns situated on the lowlands, which are joined by good road networks. These towns provide ideal locations for coffee processing. In Kisinga, Kyagalanyi has located its first Coffee Station in the area. At this station, Kyagalanyi is focusing on high quality speciality natural Arabica.
In Uganda, Kyagalani operate three sustainable Arabica washing stations, all of which are UTZ certified. The work in the Bakonzo County has only recently begun, but already Kyagalanyi is assisting farmers with better market information, improved prices for better quality and advice on how farmers can improve their primary processing techniques. In other regions, the team at Kyagalany has worked to promote ecological buffer zones and shade tree planting in the coffee farms, which helps regulate temperature and curtail erosion.
Processing
During the harvest season, Kyagalanyi encourages farmers to deliver cherries to their new, state-of-the-art wet mill instead of hand pulping on their farm. Most farmers live up to 50 kilometres away from the washing station, and Kyagalanyi has a truck that offers free transport services that visits every farmer group 1-2 times per week during harvest season. As the coffee trees flower multiple times, the harvest season is quite long, Kyagalanyi implements a 95% red cherry policy. Farmers are requested to only bring in fully ripe cherry, and this is checked at every collection point.
The coffee is processed using the natural process, where the coffee cherries are harvested and laid out on a patio or raised "African beds" inside greenhouses where they are raked and turned frequently to maintain even drying. In this process the sugars and flavors of the cherry itself are imparted to the bean contributing to a natural coffees characteristic fruitiness.
Social projects
Kyagalanyi is ISO accredited and UTZ certified. Wages are based on the role the individual is carrying out, market rate comparisons, cost of living and individual performance. They have a number of initiatives in place which support employee welfare. In addition they operate in accordance with the Workers Compensation requirements of Uganda as well as having an additional insurance cover in place and a compassionate leave policy.
We've given this unique bean a medium roast, so you taste and experience all those fabulous flavours and characteristics. It works well given the filter treatment, but we've enjoyed the unique flavours as an espresso too.